STATEMENT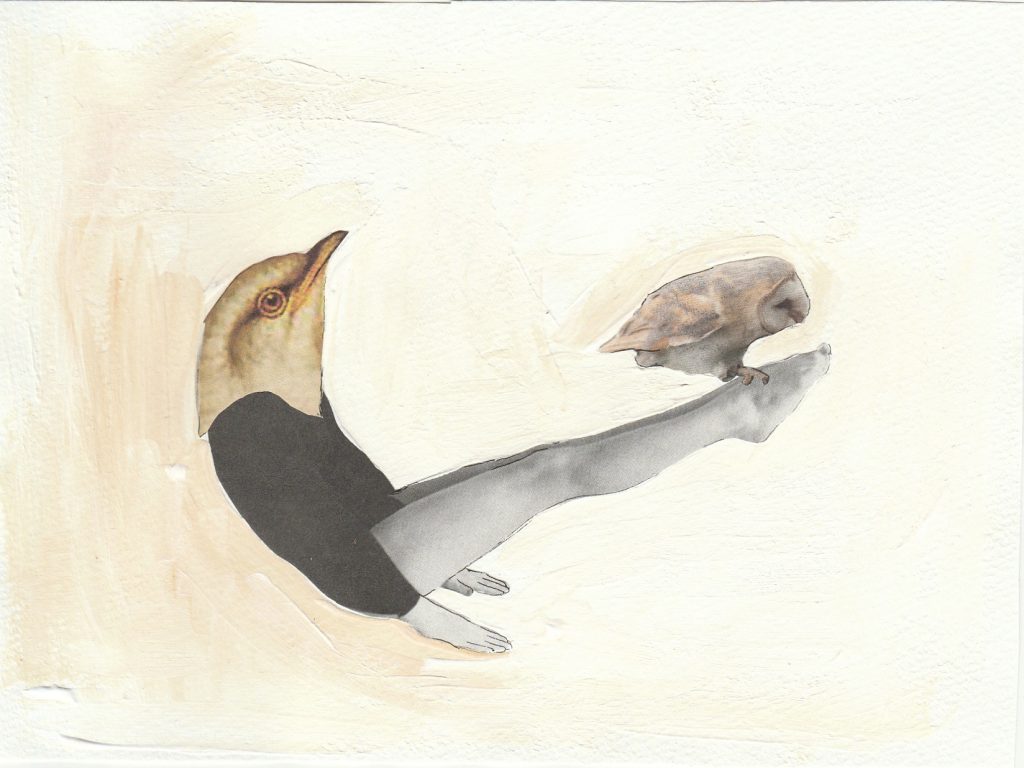 In ancient times humans created masks for performing art, which support actors' playing by recalling their emotions. Otherwise adding divine features to a funeral mask would allow the deceased to enter the "after life" with God's face. Masks have been explored under many different aspects throughout the history of art, according to times and civilizations. Nowadays as the time has passed the civilization has become more sophisticated, many people, not just actors and aristocrats, have started to make up, behave, and express their social faces according to their culture and rules, when engaging in social activities. She calls our faces a modern "mask" here. Mask turned out to be a visual identity. Accordingly there will be no fights, fire and quarrels. The mask will even prevent any virus. Stereotyped emoji-ish face expressions can advance a human's communication skill. Hanae thinks it is  "sociale expressie, armor, pantser and glijmiddel". We can fully disguise ourselves as a perfect-human who never exchanges any unnecessary expression and demonstrates other information, including mood and can be accompanied by gestures, prosody and contextual cues. She predicts that the world will become a Shangri-la just like her artworks, if on earth every human being wears the masks.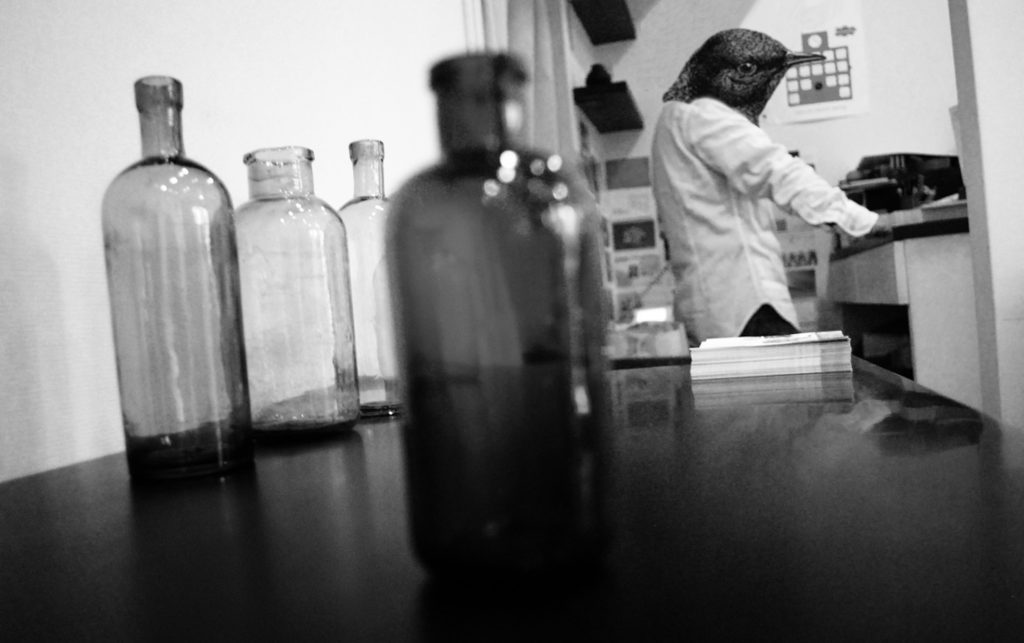 Her Birdman series, she follows animal-headed characters in such a quite animistic work, the Animal Caricatures (Chojugiga), known as the first manga drawn in the mid-12th century in Kyoto, Japan. She makes a collage for bird/animal masks which offers a more flat manga-like image to emphasize an expressionless look, while drawing a body in a lively manner further highlights the contrast of expression in face and body.
BIO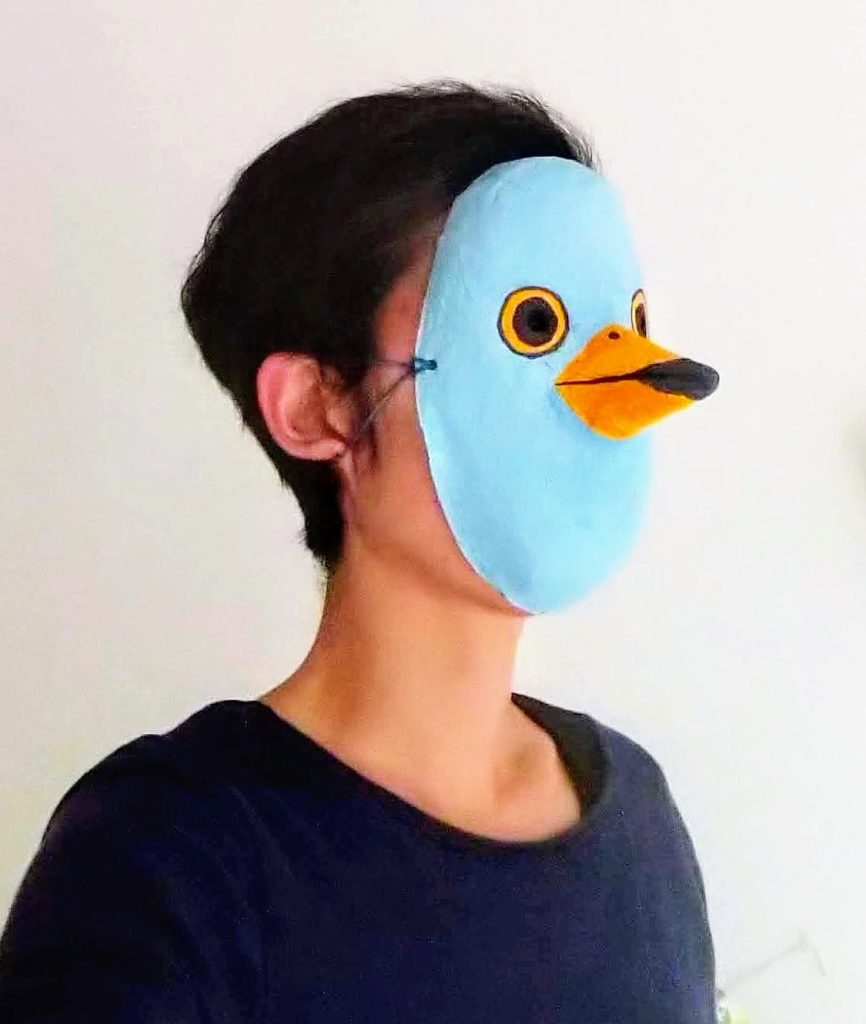 Hanae Sasaoka is a Japanese oriented artist based in Amstelveen, the Netherlands. Before pursuing a career in art she earned her BA of International Business from Aoyama-Gakuin University in Tokyo. She worked in China and the UK for several years in the business field and changed her career path to art after she moved to Long Island, NY in 2006. She's been chosen as the artist for New York Foundation for the Arts, Immigrant Artists Outreach Initiative Program 2007-2008, while she was learning art in Art Student League of NY. 
She returned to Tokyo 2010 and participated in many art shows. She has moved again to Nederland in 2018 and is working as an artist. Her work is included in galleries and private collections. 
She is a member of VAK, Vereniging Amstelland Kunst, since 2019.
SHOWS
2022
Solo show at Arne Everts Arts Amsterdam
Whatz Taipei
Affordable Art Fair Amsterdam
2020
Affordable Art Fair Battersea and Amsterdam
2019
Affordable Art Fair Amsterdam and Brussels
2018
Group exhibition in Google office Taipei
Affordable Art Fair Amsterdam
2017
Art Formosa Taipei
Art Kaohsiung
Young Art Taipei
New Karuizawa Art Museum
2015
Art fair
Fine Art ASIA
HK
Taipei Young Art Taipei Taipei
2014
Art fair
HK Contemporary Group show Message Art fair
New City Art Fair
Taipei Art fair
2011
Art fair
ULTRA004
SPIRAL Garden
Tokyo Emerging Contemporary Artists of Japan, 2/20 Gallery
NY Solo show at H.P.France
Shinjuku TAKASHIMAYA, Tokyo
2010
Emerging Contemporary Artists of Japan, 2/20Gallery
NY Solo Show at Syosset Library, NY
2009
JAPAN ART SHOWCASE, Brown University
Making It at Deutsche Bank Gallery, supported by Deutsche Bank and NYFA
2008
ARTcamp 2008, NYSG, NY
Solo Show URBAN GROUPS, Chashama Gallery NY
ART SHANGHAI, Generation6, A.I.R.Gallery, NY
2007
Chosen as one of the artists for New York Foundation for the Arts
Immigrant Artists Outreach Initiative Program 2007-2008